WHAT HAVE I FORGOTTEN? Double Vinyl Album EXTRA
$69.00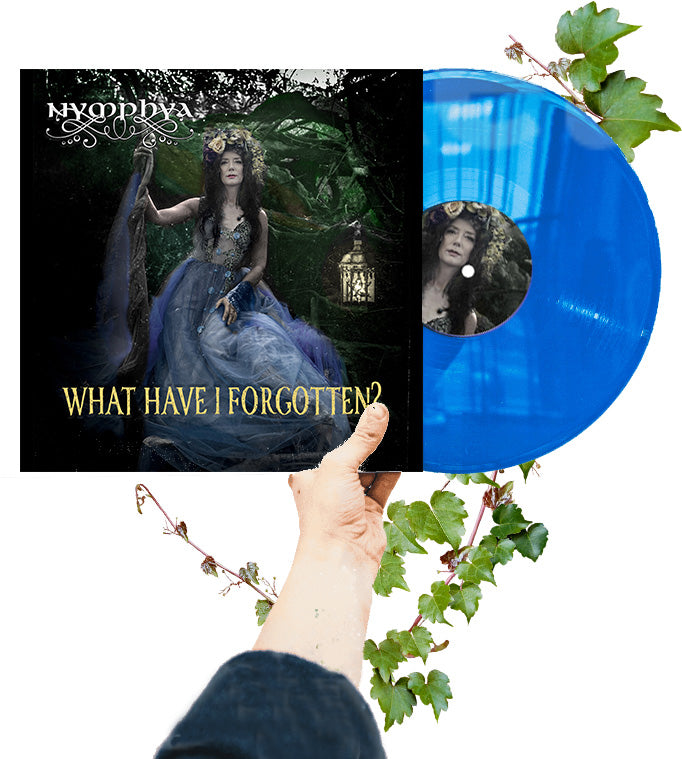 🌿 This rare, limited edition 45 RPM double blue translucent vinyl album of Nymphya's mesmerizing Cinematic Art Pop music was written and recorded to surround you with lush vocals and unusual instrumentations; a fusion of folk, classical, progressive, and electro elements.

With ancient aulos, lyre, frame drum, hurdy gurdy, harpischord, harp, cello, Celtic flute, banjo, and dulcimer juxtaposed with the usual suspects of bass, drum, guitar and synth, Nymphya's music and lyrics will enchant and transport you to other worlds.
When you add Nymphya's beautifully illustrated 170 page full-color 8.5" x 11" hard back book WHAT HAVE I FORGOTTEN?  to your order, be prepared to experience the immersion on a whole other level. . .  
Immerse yourself in a captivating journey of self-discovery, and gain insight into the deepest inner workings of not only the music, but of your soul.
And experience the immersion on a whole other level. as you journey into the esoteric realms of the Emerald Tablet that inspired the album.

What mysteries will you uncover? 🌿
INCLUDES:
• Digital download of entire album in hi res mp3 -
$12.99 value | INCLUDED
• Instrumental only digital download in hi res mp3 -
$9.99 value | INCLUDED
• 1 hour of guided imagery pathworking mp3s -
$12.99 value |
INCLUDED
• Digital art card suitable for printing and framing -
$5 value | INCLUDED
• Nymphya | WHAT HAVE I FORGOTTEN? Wallpaper -
$2 value | INCLUDED
WHAT HAVE I FORGOTTEN? Double Vinyl Album EXTRA

Description

🌿 This rare, limited edition 45 RPM double blue translucent vinyl album of Nymphya's mesmerizing Cinematic Art Pop music was written and recorded to surround you with lush vocals and unusual instrumentations; a fusion of folk, classical, progressive, and electro elements.


With ancient aulos, lyre, frame drum, hurdy gurdy, harpischord, harp, cello, Celtic flute, banjo, and dulcimer juxtaposed with the usual suspects of bass, drum, guitar and synth, Nymphya's music and lyrics will enchant and transport you to other worlds.

When you add Nymphya's beautifully illustrated 170 page full-color 8.5" x 11" hard back book WHAT HAVE I FORGOTTEN?  to your order, be prepared to experience the immersion on a whole other level. . .  

Immerse yourself in a captivating journey of self-discovery, and gain insight into the deepest inner workings of not only the music, but of your soul.

And experience the immersion on a whole other level. as you journey into the esoteric realms of the Emerald Tablet that inspired the album.


What mysteries will you uncover? 🌿

INCLUDES:

• Digital download of entire album in hi res mp3 -

 

$12.99 value | INCLUDED

• Instrumental only digital download in hi res mp3 -

 

$9.99 value | INCLUDED

• 1 hour of guided imagery pathworking mp3s -

 

$12.99 value |

 

INCLUDED

• Digital art card suitable for printing and framing -

 

$5 value | INCLUDED

• Nymphya | WHAT HAVE I FORGOTTEN? Wallpaper -

 

$2 value | INCLUDED